Uwaaahhh my friend sent me the concert pamphlet (T_T) it's so amazing and lovely! This is the ultimate Maaya book :neko:
[quote="dillpops"]One day we should have a convention haha[/quote]
YES PLEASE *O*
Posting Freak
Posts: 1196
Joined: 2005-08-11 08:45
seeing maaya played in front of audience this HUGE..!! and even in the same venue with the latest concert from the giant band, Mr.Children *also my favourite band*.... is priceless... i hope she'll get really known in the afterwards.. and can compete with nana mizuki :evil:

her first gown, red and black is my favourite though *can't wait till i get my grip on the dvd* XD
just close your eyes and follow your
HEART
--> vanished to dust T.
I-I don't even know who Nana Mizuki is ;o; /lives under a rock

I was able to purchase the Pick-Up Voice last May (I can share scans/pictures on the article on Maaya asap if people are really interested) and saw a fairly long feature on Nana because of her big concert last February. It made me excited that the same magazine would have a similar feature on Maaya in the near future. I really hope so! There was a back-to-back pin-up and four postcards for artists featured on the cover. Sadly, Maaya wasn't included /hopeful

Anyway, the magazine contained a 'present' thing with the issue. There were several goodies in the items, including autographs of Maaya. I'm guessing those interested should send that form included to get a chance to win one of those but I haven't checked into it yet ;o;

Pick-Up Voice has another feature on Maaya this coming June but the pre-order is out of stock at cdjapan now ;o; If someone can grab a copy of this one, I hope to see the contents related to Maaya too~
I hope there will be a dvd, cause I can't believe I missed another chance to watch her in concert AGAIN. I only saw her in concert when she was here, in America, for AX a few years back.
I love this picture.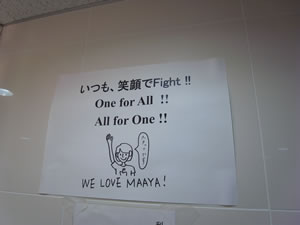 The text says "Always fight* with a smile!"
*Here, "fight" means something like "work hard (at something)".
Everyone who bought charity post cards at the event, you may feel warm, happy, fuzzy feelings. You helped to raise 1,498,500円 for Japan Red Cross! (Around £11,266)